Netart - Catharsis
A project by Tomáš Gazdil Libertiny in cooperation with MADlab.

Concept " the catharsis project"

The catharsis project is a multimedia production in which the user is given a question (presumably: what do you hate the most?). The answer given results in a visualisation of a tree and it subcategorises, so that the user will be confronted with a wide variety of relevant topics. After the tree is completed, the user will be able to get rid of unwanted images/subbranches of the tree by deleting an image. There are four ways to delete, one can trash, tear, burn or rumple the image.

The branches are generated by image searching on internet. This will provide the images. Each branch will show 3 images of the generated topic.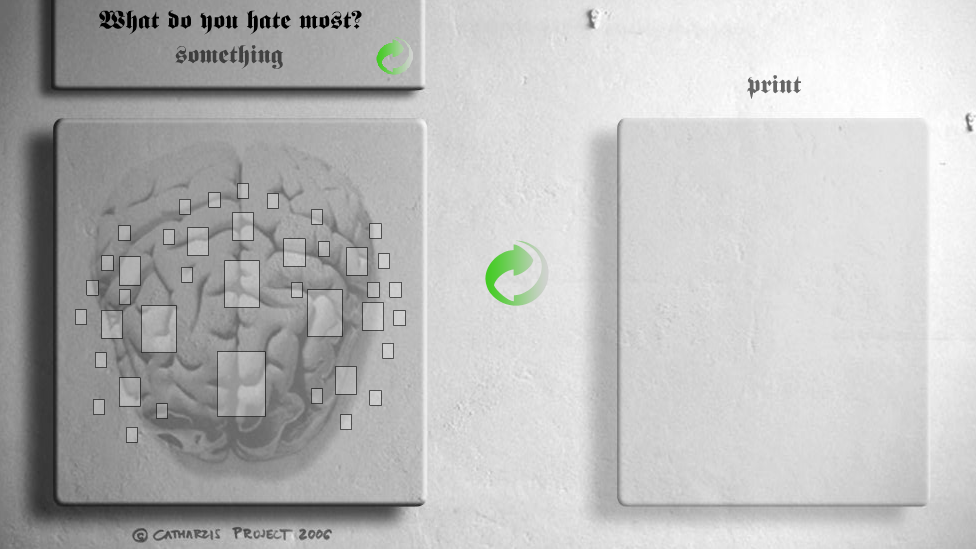 Netart - Catharsis
Een project door Tomáš Gazdil Libertiny in samenwerking met MADlab.
Concept " het catharsis project"
Het catharsis project is een multimedia productie in waar de gebruiker een vraag wordt gesteld. ("what do you hate the most?"). Het antwoord wat je intypt wordt gegeven in een visualisatie van een boom en haar subcategorieën, zodat de gebruiker wordt geconfronteerd met een brede variatie van relevante onderwerpen. Als de boom compleet is kan de gebruiker zich ontdoen van deze ongewilde afbeeldingen van de boom door ze te verwijderen. Er zijn 4 manieren om te afbeelding te verwijderen, weggooien, kapotscheuren, verbranden of verkreukelen..