Shockwave
Media art that is responding and shocking.
At the GLOW festival MAD emergent art center presents a selection of media art in the TAC.
Both new and existing work by contemporary media artists is shown.
In a continuous programming the visitor is offered a number of experiences that shed new light on the changed mediated world of today and tomorrow.
The art genre is experimental media art. Through a unique use of media technology by the artists, new perspectives and experiences are presented that eventually provoke innovation and development.
The program can be seen here below.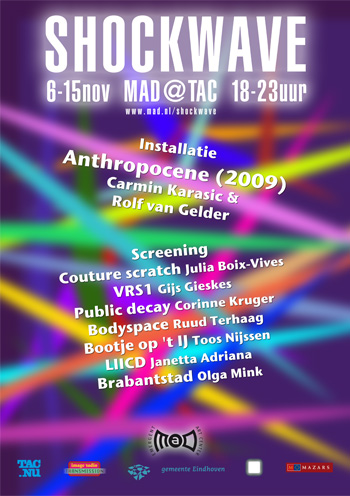 Installatie:
Titel:       Anthropocene (2009)
Carmin Karasic & Rolf van Gelder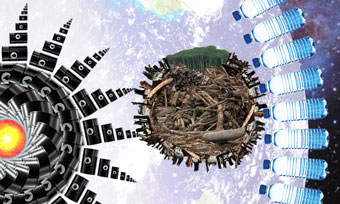 'Anthropocene' (still)
Carmin Karasic & Rolf van Gelder
Screening programma:
Couture scratch
Julia Boix-Vives
VRS1
Gijs Gieskes
Bodyspace
Ruud Terhaag
Public decay
Corinne Kruger
Bootje op 't IJ
Toos Nijssen
LIICD
Janetta Adriana
Brabantstad
Olga Mink
Meer informatie over de installatie en video's klik hier.
Meer informatie over de kunstenaars dan klik hier.
Pers foto's



Shockwave
Mediakunst die reageert en shockeert.
Tijdens het GLOW festival presenteert MAD emergent art center een selectie mediakunst in het TAC.
Er wordt zowel nieuw als bestaand werk getoond van hedendaagse mediakunstenaars.
In een doorlopende programmering krijgt de bezoeker een aantal ervaringen die nieuw licht werpen op de veranderde gemedialiseerde wereld van nu en morgen.
De gepresenteerde kunst is qua genre in het experimentele mediakunst gebied. Door een eigenzinnige benadering van mediatechnologie worden door de kunstenaars nieuwe gezichtspunten en ervaringen geboden die bijdragen aan vernieuwing en ontwikkeling.
Voor programma zie hier onder.